Ska Show Diary * 1998 to 1999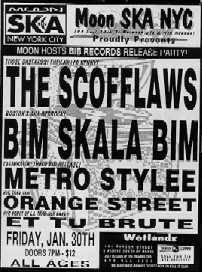 Scofflaws/BimSkalaBim/Metro Stylee
Wetlands - New York, NY
January 30, 1998
Orange Street broke up a few weeks before the show, and I was late (as usual) so I missed Et Tu Brute, but it was just as well. This was one of those shows that never seem to end, & by the end of the night my feet felt like lead. Plus, the place was so crowded it was unbearable to move. We kept in the back by the bar for the whole thing, which really bothered me since BimSkalaBim always makes me want to dance. Ah well, more bucks for the bands - good always goes with bad.
This show also doubled as a record release party for Metro Stylee (on BiB records). My reactions to Metro Stylee are confusing, to say the least, so I'll just let sleeping dogs lie on that one. Bim Skala Bim was fabulous as always (did you really think I'd say anything different?) & played a good mix of old songs & new (off of Universal). Their version of "Shakin' All Over" alone was worth the trip.
The Scofflaws were good but the night was just too long, & I've never been their biggest fan. So was it worth the 12 bucks? I'm still deciding...
Skavoovie & the Epitones/Skoidats/Rude Bones
Wetlands - New York, NY
February 15, 1998
This would have been one of the more perfect shows if the Skalars hadn't dropped out due to vocal problems, but even without them it was a rockin' good time. The Wetlands continues to mystify me... an all-ages afternoon show with pretty big bands playing and the place was relatively uncrowded. There was actually (gasp!) room to dance. Bizarre.
Try as I did to get there on time, I still missed See Spot (but I heard they were great). Rude Bones (from Japan) put on a great show and did a nifty Specials cover. The Skoidats seemed to be a bit underappreciated (there were more than a few blank stares from the audience when they launched into some straight oi) but I loved 'em. And of course Skavoovie was great (plus they did my favorites, "Old Man of the Mountain" and "Aquaman"). All in all, a decent ska night at the Wetlands for a change.
Laurel Aitken/Allstonians/Porkers
Wetlands - New York, NY
July 11, 1999
Well ska is definitely dead - compared to a ska bill last year, the Wetlands was practically empty. The Porkers and Allstonians switched spots on the bill, so I missed the Allstonians (which was fine with me). I'd had a friend recommend the Porkers when she'd spent a year in Australia, so I was looking forward to their set. They were fine, very high energy and somewhat ska-core, but not what the crowd came to see.
When Laurel Aitken came out, the tiny crowd went crazy. He was so much smaller than I expected, and he started off by walking on stage so slowly, that I was worried he wasn't going to make it through the set. But after the first few songs he really got into it and started dancing away. Plus, his voice is still perfect and fantastic to listen to. It was an amazingly short set, but one of the best I've seen recently.