The Toasters/The Pietasters/Spring Heeled Jack
Loeb Student Center, NYU - New York, NY
November 21, 1996

What a difference three years make! This show took place in the same building as the Slackers/Agent 99 show, but this time it was held in an actual auditorium with a real stage! The crowd was a typical NYU college pack, but was thankfully pretty docile. I'm not a Spring Heeled Jack fan, so I'll just leave that part of the show alone, but the Pietasters were great as usual. I was disappointed by the Toasters set though. The songs I dig are when Bucket sings (circa Skaboom!) and he wasn't doing very much of that that night. Of course, I had to leave early so who knows how the night turned out?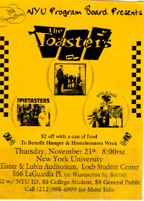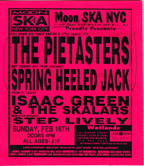 The Pietasters
Wetlands - New York, NY
Feb. 16, 1997
I missed seeing Issac Green & the Skalars by about 5 minutes, which really pissed me off. I'd liked their "Skoolin'" album and had been dying to see them live, but so far it hasn't happened. On the plus side, I bought a 7" from one of the Skalars, and when I told her that I'd missed them she was incredibly sweet. She gave me a sticker and offered to sign my record. Very, very nice.
I was also not happy about having to sit through Spring Heeled Jack (I'm not a fan), but the Pietasters more than made up for it. Though I may have issues with some of their lyrics and on-stage banter, I can't deny that they put on a great show. "Drinkin' and Drivin'", "Movin' On Up", and my favorite, "Factory Concerto" made it one of their best that I've seen.
Inspecter 7/Bluebeats/Magadog
Wetlands - New York, NY
February 21, 1997
Sure Mephiskapheles was headlining, but who was I there to see? Inspecter 7 all the way. When I first came to NYC I must have seen them ten times in 9 months, but as time wore on their shows were fewer and farther between. It was about 2 1/2 years until I saw them again and they were just as great as I'd remembered. A crazy band with a great sound and insane energy, they're my all-time favorite "tri-state area" band.
And the Bluebeats are pretty goddamn hip too.
The flaw? The Wetlands was way too packed with people. Apparantly someone threw up from the heat. That and the 12 year old jock boy behind me singing "OI" along with Inspecter 7 then laughing with his friends about it were the downside of this show. But I guess that's the price you pay when Mephiskapheles is headlining.