Ska Show Diary * 1993 to 1995

Agent 99 & the Slackers
Loeb Student Center - New York,NY
Fall 1993

One of the first shows I ever went to, this was also the most bizarre. It took place in the lobby of our student center, with the bands playing on a makeshift stage. The audience was about 10 people, and all sat on the floor and watched (with the exception of myself and one other girl). So I guess you could say the Slackers paid their dues (now if only Agent 99 was still around)...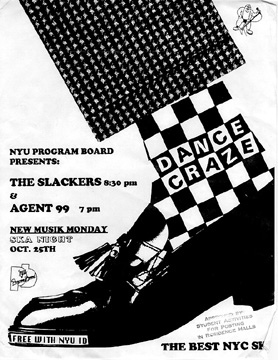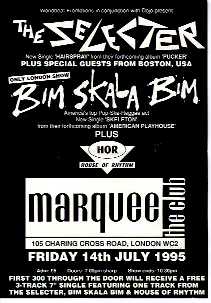 The Selecter & Bim Skala Bim
The Marquee - London, England
Summer 1995

By far one of the best shows ever. I was taking classes in England for 6 weeks and having a great time when I stumbled on the listing in TimeOut London on the night of the show. No one on the trip dug ska so no one wanted to go with me. To complicate matters, one of my favorite old-school DC bands, Shudder to Think, was also supposed to be playing in London that night. It took me 20 minutes to decide what to do, and it was the best decision I could have made. I got to the Marquee as Bim started (they were maybe 2 songs into their set) and got to say a few words to the band after the show as they were selling merchandise (by the by, Bim Skala Bim are not only great musicians but the nicest bunch of people I've ever come across in ska). And Selecter was, of course, great. To see them on their home turf is truly something else...
Insteps/Defactos/Inspecter 7
Pyramid Club - New York, NY
October 1995
I'd been away from live ska for months (with the exception of the London show) and was psyched to get back to NYC and see a show. The Pyramid Club isn't exactly known for it's ska (I think this was one of the last ska shows they put on) and the place was by no means packed. But the bands were good and it had been forever since I'd seen Inspecter 7. Plus, it was a fun, casual atmosphere - everyone was there to dance and have a good time. Overall a lot of fun and a good welcome back to the NYC ska scene.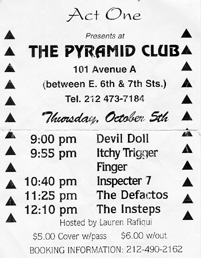 Speaking of Bim Skala Bim, my most favorite ska band around, here's one of their playlists that I snagged at a show they played in December of 1995 at the Wetlands in New York City. See how long the list is? See how they played "Chief Inspector"? See how incredibly wonderful they are? *Sigh*
Bim Skala Bim/Mephiskapheles/Slackers
Wetlands - New York, NY
December 10, 1995

Here's where my memory gets shoddy. This may be the show I got the playlist (above) from, but the date written on the playlist is the 9th. Still, let's pretend they're one in the same since I doubt Bim played the same venue twice in two days.

On the whole I don't have a lot to say about this show except, once again, what a great live show Bim Skala Bim is.